Skepticism ran amok as soon as it was announced that a biopic on the life of the late singer Aaliyah was being made by the drippy cable network of Lifetime. For anyone that actually grew up with Aaliyah's songs as a part of their childhood soundtrack, fans of hers are as militant in protection of her legacy as her beloved family. From the fan perspective, Aaliyah was the mysterious ingenue of '90s R&B. The one-eyed jack hairstyle, slithering yet electric dance moves, and most realistic illustration of tomboy chic that's still emulated by today's pop stars, Aaliyah was a key, subtly influential figure for the genre's younger fanbase. Since 2001, her surviving kin have made it clear they had no intentions of immortalizing her life anymore than it already was. Documentaries and tribute specials have come and gone, but never a film in the lane of Selena even 2014's Get On Up about James Brown. Her loved ones barely release posthumous tracks as only "Steady Ground" had a semi-official outing, Drake was allowed one track to mingle with, resulting in "Enough Said", while they did bless Chris Brown's "They Don't Know" that features Aaliyah's vocals in the form of a duet. The Haughton family wants her legend to stay unhindered.
Lifetime however remained determined, and by the time casting the lead hit a roadblock, the network was impenetrably stubborn in wanting to make an Aaliyah biopic. Aaliyah fans have been honest in wanting to see a big-budget orchestration for the cineplex, yet after the airings of Lifetime's disastrous take on Elizabeth Taylor's scandalous long-standing romance with Richard Burton in Liz & Dick, and worse, their hollow take on Brittany Murphy, many felt a Lifetime spin for Baby Girl would feel insincere and rushed. Suffice to say it was, as any worry about the film not entirely re-enacting the map posts and personalities of Aaliyah's rise to fame properly was intolerable at best when for Aaliyah: The Princess of R&B arrived.
Truthfully, the biopic begins okay and it remains for about 45 minutes though its script revealed little by little minor substance and quality. The actors did not have much to work with and possibly (considering it was Lifetime producing it) maybe the mis-casted cast chose to ride the wave of cheese and mediocre to a fault. And it all feels disrespectful as a viewer. The family did not approve of the film (including using Aaliyah's real vocals) and yet there's an actor playing her brother Rashad, who in real life was always by her side, behind the scenes and on the red carpet.
Alexandra Shipp, who after Zendaya Coleman dropped out, plays Aaliyah, and as a new actress, her range is not explored whatsoever, making her appear unseasoned. She's very one note. As mentioned, the singer was an enigma, while for example, Brandy her peer was one of America's sweethearts, but the writers made their adaptation unnecessarily arrogant and distant often times, leaving no room for nuance from Shipp. It was one emotion at a time. Be sad. Now be annoyed. Now be agreeable. Just say "okay". She can't be remotely and interestingly complex at once. The whole allure of Aaliyah's presence was that she had a seductive spirit about her, but this is nary in the biopic.
The casting was another major reason why Lifetime's biopic was a bust. The network has already shown a likeness for
not going according to actual history and facts, but in doing things they're way. Such ignorance does not always work when presenting a biography. It's still supposed to be ring true even if explained through modern-day and definitely someone else's interpretation. While not the actors' fault, the roles of R. Kelly, Damon Dash, Missy Elliott, and Timbaland were especially so far off, one had to ponder how was it that Lifetime gave so much of a damn to make this film when they couldn't even cast the supporting roles effectively? True fans of the singer and the era will not resist from rolling their eyes or gently holding their head in their hands. The casting made the film so very meme-worthy, Twitter and Instagram were on fire during its premiere. I'm not quite sure who told the producers that putting "Missy Elliott" in an Adidas tracksuit was going to be all it takes…and she apparently was on the Atkins diet in 1995.
The one singular scene of substance during the Princess of R&B was after Aaliyah has garnered some fame from her debut LP Age Ain't Nothing But a Number and her mother softly accosts her in her bedroom. She asked Aaliyah if she's okay in which she declares that she felt like the "world's greatest puppet" under R. Kelly, who was the main producer and her shotgun marriage husband. It was the only moment of the film that felt genuine, and emblematic of young entertainers that just want to be seen and heard, but their ideas buried by fear, anxiety, and in her case, management approval. Aaliyah felt like a poster for someone else's talent, and not hers. Think of how Cassie's first album was a showcase for the Harvard-educated Ryan Leslie's production skills. It was superb on her record, and Cassie was just the afterthought. The writers did redeem points for trying in those five minutes to get us to feel how Aaliyah possibly did as a fresh face that wanted more.
Shortly after the singer begins production on her sophomore One In A Million, the film definitely just gets worse. The dialogue got more ridiculous (you could feel the writers give themselves a pat on the back everytime "Dame Dash" mentioned he was from Harlem. Good research guys!) and the sets got cheaper. When they re-enacted Aaliyah's 1998 Academy Awards performance, it was not good. Aaliyah was the youngest artist to grace the stage in singing a song nominated for Best Original Song. The scene was so unexciting, and they also underplayed the fact that the song "Journey to the Past" was also an Aaliyah fan favorite and boost to the animated film Anastasia's coverage considering.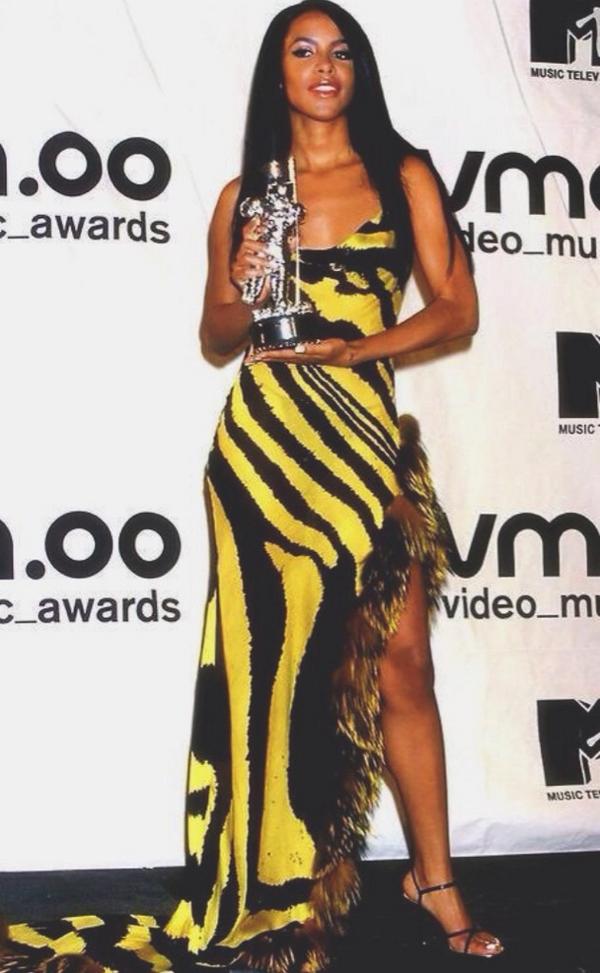 And hey ! Where's the re-enactment of her winning a Best Female Video VMA for "Try Again"? She actually beat Britney Spears' "Oops! I Did It Again" back when MTV chose the winners, and it wasn't fan voted. Who could forget her epic Roberto designed, leopard print dress when she won her Moonman? (And no mentioning of "Are You That Somebody?" Chile…)
The campiness of another Lifetime biopic wraps up with her air kissing her boyfriend Dame goodbye from her car to the airport, and again, the producers earned minor parts for genuine emotion as Aaliyah and Dash were set to be the original Beyonce and Jay Z in 2001. It was reported and confirmed by real-life Dame Dash that they had planned on getting married. Lifetime did not re-enact anything regarding her fatal trip to the Bahamas to film the "Rock the Boat" video and chose to end it all with "in loving memory" credits as she had died on August 25, 2001 along with eight video crew and stylist members in a plane crash.
For all their willingness to get the film done, Aaliyah: The Princess of R&B was just so lackluster. The people who loved and knew her best did not budge in offering details, so Lifetime was forced to cut and paste from everything they knew. They get a C for effort because Aaliyah's story should be told. In what would be one of her last appearances on TV, she had filmed an episode of MTV's Diary, and when asked what she would like her legacy to be, she shared as a "great entertainer and a good person". In Aaliyah: The Princess of R&B, the surface of her goal was barely even scratched and was just used as another tale of fame. Aaliyah's legacy deserved better than that from this cartoonish tribute.