If you're Navy, you've either already got your Rihanna Creepers on pre-order or you're preparing for battle on September 25 to get your own on site. (Good luck).Prior to this post, I had seen the coveted classic black suede Puma "remixed" as a creeper off and on for about a week and while I definitely thought they were nice, I've personally never cared for creepers. Even when Alexander Wang issued his own "Frankie" (and those were actually dope), I still didn't gravitate towards this kind of platform shoe. I've known lots of people to find it their acquired taste, and they were likable on said peers. Rihanna wears them regularly. But for me? I was always worried that it would feel like wearing literal blocks on feet my, or at least the athletic Western cut of Japanese Getas (those centuries old, wooden flip-flops).
Creepers, from my observations, are usually adored by those who've adopted a heavy sense of gothic or rockabilly style. (I love me some rock 'n roll persuasion). And for decades, they've come in so many prints and materials, the most popular kind are the oxford creepers. A lot of smaller labels found in specialty stores like on New York's St. Marks street, suburban mall staple Hot Topic, and online shops like Karmaloop's Miss KL and now DollsKill are always stocked up on this type of shoe.
So with Puma bringing the thick crepe bottom, that originated in the 1940s, to a sneaker rather than a traditional dress shoe is certainly intermixing the past and present in a way that super current. Yet even through their Rihanna partnership…I still didn't feel the urge to want one. Until I heard and saw the other "colorways" the Rihanna Creeper would be available in.
Ooooo! So, um, nobody said it was going to be in other colors! (Should I insert "duh" here) The Puma by Rihanna Creeper, under her Fenty by Rihanna collection, comes in all black, black with a tan sole, all tan, taupe with tan, black with gray, and a really cute strawberry blonde pink with the classic Puma sway in hunter green. Rihanna was also seen back in December 2014, when she signed her Puma contract, wearing a white with a black bottom pair.
I suddenly found myself looking at the $120 price tag differently. (I didn't find it overpriced to be honest. Maybe my years in New York have inadvertently trained me to look at fashion through its eyes). I now (shamelessly?) want a pair. I may be on my way to the first Creepers ever and it took the bad gal for it to happen. (Bitch is taking all my money). I think I could make this version of it work for me.
According to NY Racked, right now there is a separate Puma pop-up shop catering to the Rihanna Creeper on New York's Bowery. But the staff admitted to Racked's writer that not all sizes are available in the colors out now. Some colors are awaiting their official release, such as the pink and hunter green ones (damn). So those that can get to NY can get a pair before September 25 since the pre-order sold out in three hours, but it's the fashion capital of the U.S. Are there really any pairs left for purchase?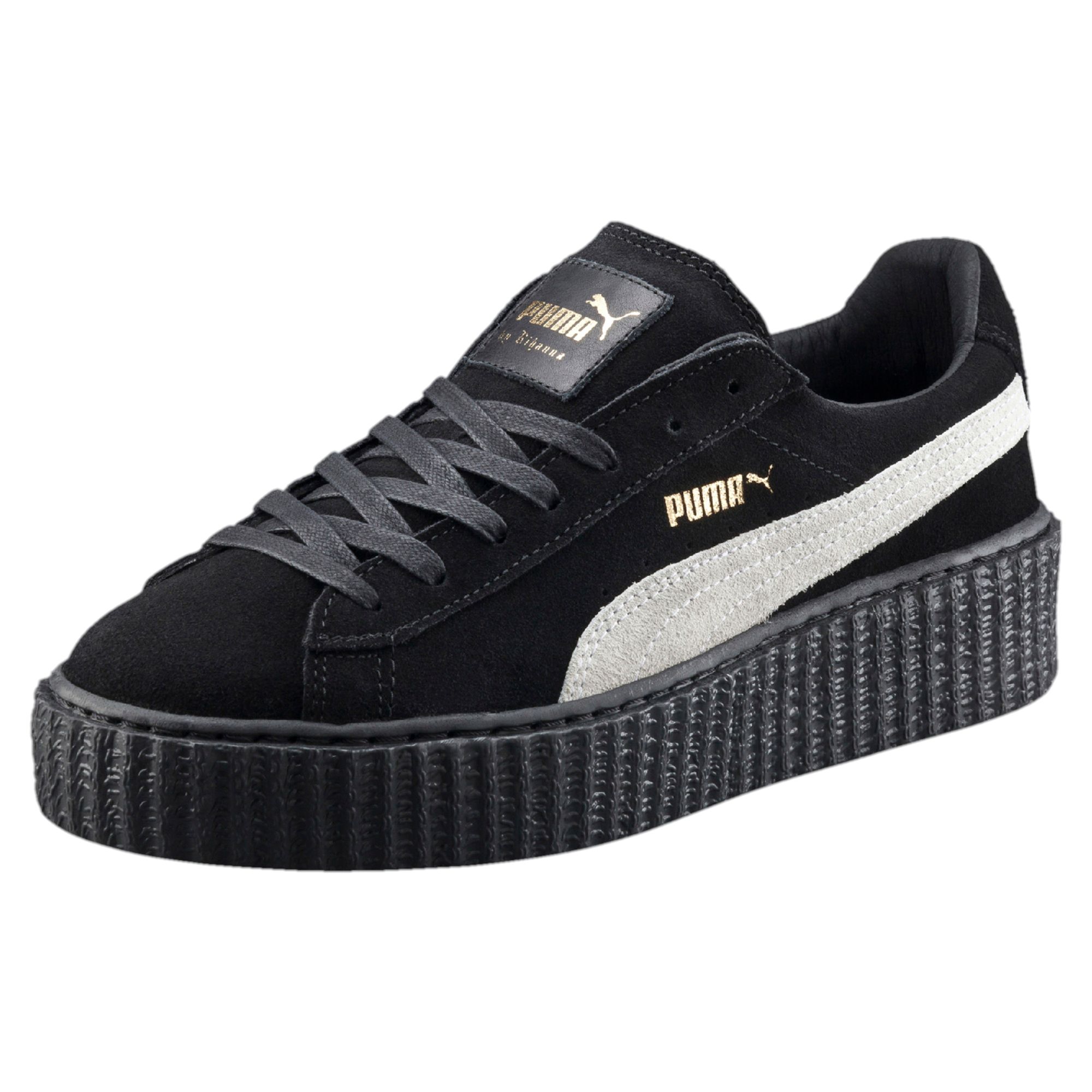 puma.com
If you really want one and don't live or want to travel to New York, or act like a heathen to place your order online, do like I will and call your local Puma store to see if they're going to carry it or check out any local or independent sneaker stores in your area. Plus, be wary that this is just the first of many Creepers and sneaker styles from Rihanna. If you don't particularly want the classic suede that's first, wait! (I know, it's tempting). Also, Foot Locker looks to be exclusively carrying it outside of Puma flagships. Non-Navy members, time to get your "G4L" on. The it sneaker of the fall that isn't a Yeezy is here.