The old adage of "boys will be boys" may be an infuriating excuse for a should be gentleman's joyride of bad behavior. While this has been explored in many films of the adolescent dilemma such as Stand By Me and The Basketball Diaries, the forgivable nature of their impetuosity has extended itself to apparel geared towards young women.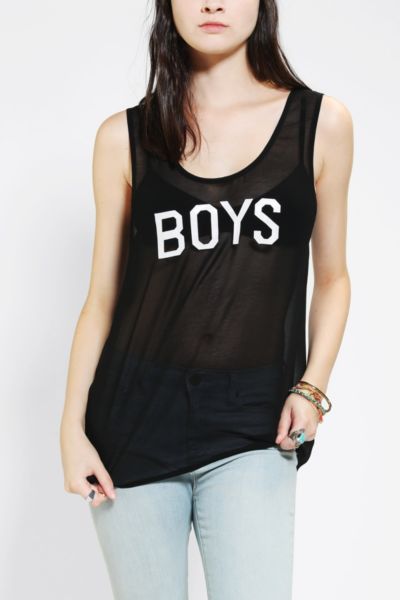 The vintage entailed brand of Reformation has rolled out a sheer jersey tank top and a matte vinyl bomber jacket with the word written in romantic cursive. There is no explanation of their intentions with this kind of "boys-only" capsule, and as H&M currently has their own imitation with similarly designed shirts and bottoms that reads "boys", it does bring to mind the intro of Madonna's dolefully wistful "What It Feels Like for a Girl":
"Girls can wear jeans, and cut their hair short. 'Cause it's OK to be a boy. But for a boy to look like a girl is degrading. 'Cause you think that a being a girl is degrading, but secretly you'd love to know what it's like, wouldn't you? What it feels like for a girl".
Now, that's pretty deep to connect such glum to a rather innocuous article of clothing, and Reformation certainly hasn't done any wrongdoing or social injustice to the world with their "Boys" line, yet a few may stop and wonder as they hold up the very appealing bomber jacket, would anyone ever make a jacket or shirt that says "Girls" so admiringly? Is "penis-envy" still relevant as female pop stars are again all-too eager to flaunt their body parts on social media when their male counterparts remain clothed? "Who run the world", really?
Reformation's items are also carry a strong a '50s cool/James Dean appeal, and teenage gangs that were re-created for the film adaptation Grease. They are an interesting mix of store-bought masculinity targeted for women, and women that will wear these pieces, embody the kind of androgyny that can only be achieved when one gender's characteristics slightly topples the other.
A few weeks prior to these "Boys", on Natalia Kills' sophomore album Trouble on track four is the persuasive "Boys Don't Cry", a Pop/Rock tune with an equally attainable retro '50s vibe with lyrics that exude that mini movement of young women "kissing the boys and making them cry". In a strong vocal performance, Kills is seductive and brawny to her suitors, already aware of her plans, backed by past experiences of heartbreak that have turned this good girl into a mid-Western femme fatale. In the chorus, she sings: "I'll be yours tonight but don't hold me to tight, when we say goodbye…remember boys don't cry". A total kiss-off on the machismo act that every man, and even boys, like to portray, but underneath it all have the ability to crumble under another unforeseen round of two-can-play-this-game of the battle of sexes.
The boys may be back–they always come back–but the girls are here to stay.