I'm not sure what feels–in this non-ideal hypothetical universe–worse: accidentally leaving your portable music player at home or, instead, your set of headphones to enjoy the music with.
In the past, I've experienced the latter circumstance. When it happened, my day felt ruined. I am imbalanced. You know that hilarious meme of Alfonso Ribeiro aka Carlton from The Fresh Prince of Bel-Air, looking distressed and on the verge of tears? That's how much it aches getting from point to A to point B without the reassurance of Amy Winehouse's Back to Black.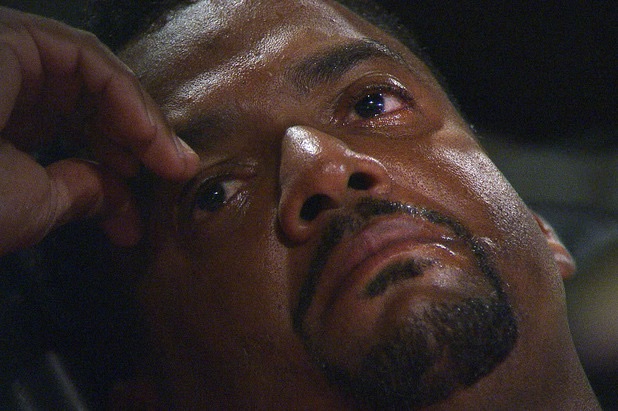 Recently, previously unknown website The Modern Man published an article titled, "How to Talk to a Woman Who Is Wearing Headphones." I'm not as up on the latest blog posts across the web as I used to be. But I still become notified of when an article has spilled so much Earl Grey truth, the revelations are treated as the new Audre Lorde essay. Or, are so mean-spirited and douchebag central, rebuttals are written for the rest of us that can't and won't fathom that human beings are this disappointing. That is how I discovered the above article.
Annoyance was the word for the many once it went viral. Understandably so. Why does an article exist in the first place on how to hinder a jam session with my girls Janet, Jazmin Sullivan, and Britney? A small part of me was, however, interested in what its writer, Dan Bacon, recommended as ways to approach women in music wanderlust. The headline was both hilariously awful and a tad provocative.
Before reading the counter-posts that roasted it, I cornered Bacon's original advice first. This Bacon who was not Kevin was just so bothered by the growing number of women that preferred their personalized jukeboxes than laying across the street like a damsel, waiting for men to notice them.
The beginning was relatively innocent. Bacon acknowledged that: "…many women walk around playing with a smartphone or tablet device and are often wearing headphones and listening to music at the same time.
Yet, that doesn't mean you can't talk to them."
Hmmm.
"Of course, not all women are open to being approached because not all women are single and looking."
I guess.
"However, if a woman wearing headphones is single and hoping to meet a boyfriend (or even a new lover), she will usually be happy to take off her headphones to give you an opportunity to create a spark with her."
I want to know in which American city does "hoping to meet a boyfriend" happens in the time frame of small talk? How about at the very least a decent person if you're going to interrupt our free trial of Audible? Furthermore, Bacon's tips sizzled with passive aggressiveness.
For men, Bacon conjured a Top 5 list of ways to get the attention of a woman wearing headphones. Included was: standing directly in front of her, waving your hand in her face, and pointing to her headphones, as if she is a moron, signaling that you want to speak to her. Along the inane tips, Bacon exposed his condescending manner of describing women as classically being the weaker sex. We just can't help it evidently. "Most women are polite, but some women are shy and will be hesitant about taking their headphones off initially." Oh, darling, we are hesitant because women of a certain age can't be bothered with another "Hey ma, how you doin'?" pestering.
I admit that when single, sometimes, and with or without headgear, I do hope to meet that special someone on one fine day. Who hasn't had that sentimental fantasy? We all do because it's happened to us once. But more often than not–and single or not–a woman just wants to hear her music when headphones are present.
He tried to transfer as sincere, but Bacon disturbingly wrote himself off as entitled. Women should be giving him and men nationwide undivided attention. Especially if they are single. A woman should be grateful "Confidence" by Demi Lovato or even better, a Diana Ross & The Supremes mix was interrupted by gestures that resemble calling for help in the middle of the sea. How To Talk to a Woman Who Is Wearing Headphones is Mr. Nice Guy gone nightmarish.
By the time I got to the stock photo of two joggers yukking it up and Bacon's "real-life" examples of How To Stalk, I chuckled. This must've happened to this writer a lot. In the heterosexual dating field, women have long accepted that men are the huntsman. Fine, whatever. But like headphones must be to men, to women, are symbols of respite.
I love my headphones because they are a direct connection to music. It's not such a dramatic moment every time I cover my ears with them, but they are like armor. I select a favorite jam of mine and I'm ready for showtime, reality, or to once again, let it go. Headphones are God's gifts to us to keep it together until we at least get home.
In Bacon's slight defense, only because I see an angle here, maybe the much bigger picture here is that we've taken too much respite in our gadgets. There really aren't official guideline to "picking up chicks" or making yourself available to men that will lead to awesome relationships or meeting good people. When these wonderful realizations occur, it is kismet. Dare I say it, fate. No dating expert like Bacon can make these type of dreams come true. Tricks like blind dates or set-ups can help, but the rest is up to chemistry and openness.
Let's disclose that in 2016, it is a kind of lame to see the young and old glued to phones or tablets on a train ride or at a concert. Where has the genuine communication gone? We've all become a bunch of know-it-all robots that can't put the scrolling down. Adults still go to bars and lounges. And you can still lock eyes with someone in the most random parts of town. But isn't everyone a little tear-jerky for the days of meeting new and cool people at the record store? Maybe the mall? Do these occurrences still happen at the local library? Gadgets have made it easier for the introverted to be a wallflower in peace. Yet so many have seem to lost their sense of great, candid conversation.
Truthfully, maybe the percentage of women with headphones on has grown because the dance floor Madonna sung her twenty-something grievances on, in 1983, sound a lot more exciting and fun than tolerating another round of "So what's your Instagram?"
If I can offer any advice to men out there who do see a girl they instantly like, for whatever reason, in public, say hi and do so normally. There's no need for the theatrics. Bacon is right about one thing. Most of us women are willing to let you speak. But we'll place our headphones right back on and return to 1999 if your courtship is nothing more than pseudo-bravado or stepping out of bounds mumble jumble.